Hover
Hover
Hover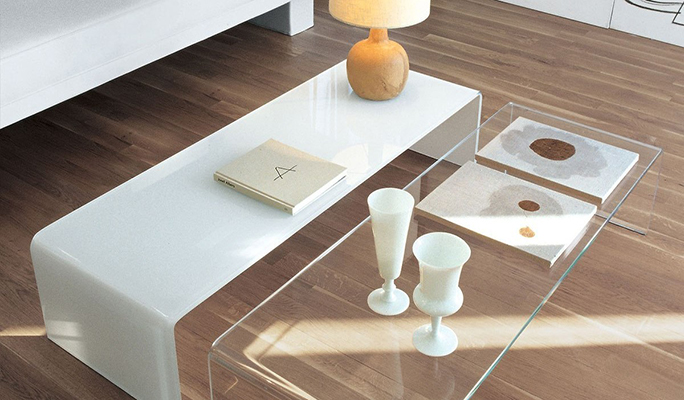 Hover
Hover
Hover
Hover
Bridge Coffee table
Dimensions:
Rectangular
72 x 50 x 45H (cm) / 28.3″ x 19.6″ x 17.7″H
90 x 50 x 36H (cm) / 35.4″ x 19.6″ x 14″H
90 x 60 x 46H (cm) / 35.4″ x 23.6″ x 18″H
110 x 60 x 36H (cm) / 43.3″ x 23.6″ x 14″H
110 x 70 x 46H (cm) / 43.3″ x 27.5″ x 18″H
130 x 70 x 36H (cm) / 51″ x 27.5″ x 14″H
130 x 53 x 42H (cm) / 51″ x 20.8″ x 16.5″H
150 x 53 x 32H (cm) / 59″ x 20.8″ x 12.5″H
150 x 70 x 47H (cm) / 59″ x 27.5″ x 18.5″H
Square
60 x 60 x 46H (cm) / 23.6″ x 23.6″ x 18″H
80 x 80 x 36H (cm) / 31.4″ x 31.4″ x 14″H
110 x 110 x 36H (cm) / 43.3″ x 43.3″ x 14″H
Finishing:
Material: Smoked, extralight clear or lacquered mono or two-tones, bent glass coffee table.
Option for rectangular and square.
Sovet is an Italian design company that combines the inspirations of contemporary design and the tradition of Italian glass art, to create pieces of furniture that speak an original, elegant and versatile language.  A story that communicates emotions and welfare, through the quality of the materials and the manufacture, the versatility of the project, the sustainability of the production process. The richness of this exchange leads to create unique products that resonate with their inner meanings of wisdom, craftsmanship and technology. 
Bridge Coffee table is designed for different environments, living area, bedroom, office and contract. Available in different finishes, extra light glass to smoked or lacquered glass. Comes in many different size options in rectangular and square.
---
---