Hover
Hover
Hover
Hover
Hover
Hover
Hover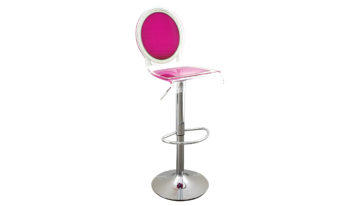 Sixteen Stool Pedestal
Dimensions:
34  x 39  x 94.5 – 115.5 H (cm); Seat height: 57 – 78 (cm)
13.4″  x 15.3″ x 37-46″ H; Seat height: 22.4 – 30.7″
Finishes:
100% Acrylic with stainless Steel paddle.
Adjustable stool available in 13 colors:
Green / Pink / Orange / Purple / Peacock blue / Light blue / Light pink / White / Blue / Yellow / Black / Red / Taupe
Acrila is a French design company based in Bordeaux, founded in 2007 by a graphic designer, and presents its work in more than 55 countries around the world. The brand is renowned for its contemporary acrylic furniture that has unique and quirky designs. The designs play with shapes, images, transparency, and light using patterns and imagery that stand out.
Sixteen Stool is able to add a unique and fun look to your space. Available in 16 colors with 2 color outline options, with an adjustable footstool. 
---
---