Hover
Hover
Hover
Hover
Hover
Hover
Hover
Hover
Hover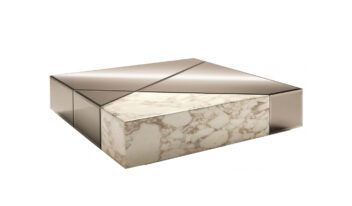 Cyrano Coffee Table
Dimensions:
Rectangle: 120 x 80 x 32 H (cm); 47.24″ x 31.50″ x 12.60″ H
Square: 140 x 140 x 32 H (cm); 55.11″ x 55.11″ x12.60″ H
Finishing: 
Structure: MDF.
Top: Marble and Mirror.
Base: Linden wood.
Opera Contemporary is an Italian company based in the Brianza district known for producing elegant and high-quality furniture collections. The company's fresh and fast-moving approach to trade and logistics, combined with the individual professional skills of its employees, has enabled it to operate successfully worldwide. The collections are highly admired for their elegance and quality.
Cyrano Coffee Table, designed by Castello Lagravinese Studio, is characterized by a playful effect of geometric lines and vibrant material combinations. A coherent alternation of marble and bronzed mirrors presents its sophisticated beauty and lights up the room with its essential features. Available in different finishes and sizes.
View Our Products
Follow us on Instagram
---