Hover
Hover
Hover
Hover
Hover
Hover
Hover
Hover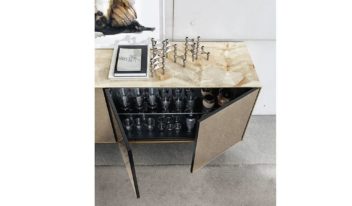 Magda Sideboard
Dimensions:
39.3″ x 19.2″ x 58.2″ H / 100 x 49 x 148 H (cm)
39.3″ x 19.2″ x 34.6″ H / 100 x 49 x 88 H (cm)
59″ x 19.2″ x 34.6″ H / 150 x 49 x 88 H (cm)
78.7″ x 19.2″ x 34.6″ H / 200 x 49 x 88 H (cm)
98.4″ x 19.2″ x 34.6″ H / 250 x 49 x 88 H (cm)
(Please refer to images with dimensions.)
Finishing:
Structure and doors: Available in mirror or ceramic, various finishes, with brass profile.
Base: in lacquered metal, embossed black or burnished finish.
Sovet is an Italian design company that combines the inspirations of contemporary design and the tradition of Italian glass art, to create pieces of furniture that speak an original, elegant and versatile language.  A story that communicates emotions and welfare, through the quality of the materials and the manufacture, the versatility of the project, the sustainability of the production process. The richness of this exchange leads to create unique products that resonate with their inner meanings of wisdom, craftsmanship and technology.   
Magda Sideboard combines the material aspect and the soft grains of the marble effect ceramic with the precious and fascinating shades of the Sovet's mirrors. 
Customizable suspended sideboards system. Structure and doors available in mirror or ceramic, various finishes, with or without brass finish profile. Available with or without led. Metal supporting structure and optional feet included.
---
---
---