Hover
Hover
Hover
Hover
Hover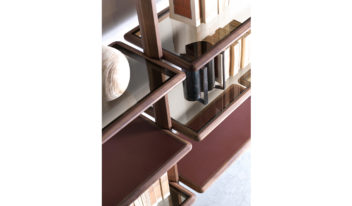 Larry Bookshelf
Dimensions:
Composition 1
232 x 41 x 265 H (cm) / 91.3″ x 16″ x 104.3″ H
Composition 2
382 x 41 x 265 H (cm) / 150.3″ x 16″ x 104.3″ H
(Please refer to images with dimensions for further details.)
Finishing:
Structure: Solid American walnut structure.
Base: black nickel end caps.
Shelving: shelves with glass and leather inserts.
Ulivi is a leading Italian manufacturer of sofas and armchairs, made with love to guarantee a long-lasting lifetime. Every product by Ulivi Salotti goes much beyond its pure appearance and artistic beauty with maximum comfort. Their exclusively Italian leathers are born unique with true results of traditional craftsmanship, research, and experience. Some of their full grain leathers include; Etrusco, Tuscany, Lance, Lotus, Grasse, Nabuk, River and Kashmir.
Larry Bookshelf an elegant piece of furniture available in various compositions, allowing it to fix to the wall and to the ceiling; it presents vertical supports in solid wood, made with fine woodworking techniques, without nails; along which the shelves are inserted, made of a wooden frame surrounding the plate in glass, leather or other materials. The design is light, discreet, yet of great scenography effect, ideal to define and separate with great personality the spaces where you can better appreciate the pleasure of living in your own home.
Take a Look at Our Other Products
Follow us on Facebook
---
---
---